Taylor Swift vs Scooter Braun.
Since talent manager Scooter Braun acquired Taylor Swift's six multi platinum albums over the weekend, the pair have been involved in a high-profile feud.
On Monday, the singer took to her Tumblr blog to share the news that Braun — a man she describes as a bully — bought her music back catalogue for reportedly US$300 million (approx. $429 million).
Swift said she "pleaded" for the opportunity to own her own work but was instead presented with a contract that, if she signed, would allow her to "earn" back one album for every new one she turned in. Swift walked away, and only learned that the sale of her first six albums had been made when it was publicly announced.
Swift also posted an Instagram screenshot of a post Justin Bieber shared in 2016.
"This is Scooter Braun, bullying me on social media when I was at my lowest point. He's about to own all the music I've ever made."
The image was a photo of Bieber, Braun and Kanye West — who Swift has been feuding with for years.
"When Kim Kardashian orchestrated an illegally recorded snippet of a phone call to be leaked and then Scooter got his two clients together to bully me online about it," Swift wrote. "When his client, Kanye West, organized a revenge porn music video which strips my body naked. Now Scooter has stripped me of my life's work, that I wasn't given an opportunity to buy."
Since the blog post, celebrities have come out on both sides of the fence.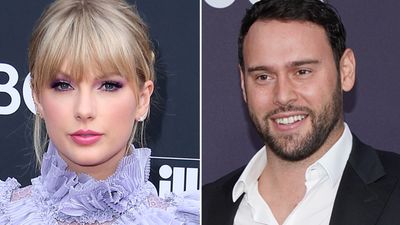 Brendon Urie
Panic! at the Disco singer Brendon Urie blasted Scooter Braun and defended Swift, whom he recently collaborated on the track "Me!" from her upcoming album, Lover.
On his Twitch stream, Urie called the music executive a  "f—-g a–hole."
"It just like broke my heart," he said. "I read Taylor's statement and I was like, 'That sounds about right,' you know. Toxic dudes doing toxic bulls–t in this toxic industry," he said.
"He doesn't sound like a very good person. It's a s–t show to learn how awful people can be just for a profit, just for a monetary gain and maybe some clout."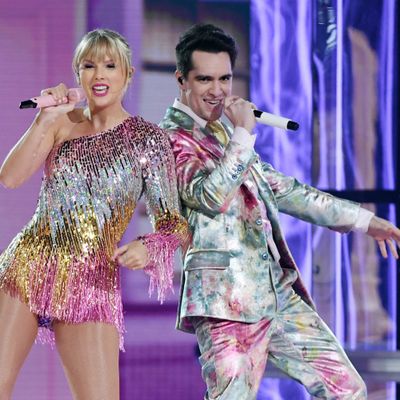 Justin Bieber
Justin Bieber was one of the first to speak out, apologising to Swift for the photo he shared in 2016 but defending Braun.
"Scooter has had your back since the days you graciously let me open up for you," Bieber wrote on Instagram. "As the years have passed we haven't crossed paths and gotten to communicate our differences, hurts or frustrations. So for you to take it to social media and get people to hate on scooter isn't fair. What were you trying to accomplish by posting that blog? seems to me like it was to get sympathy u also knew that in posting that your fans would go and bully scooter. Anyway, One thing i know is both scooter and i love you. I feel like the only way to resolve conflict is through communication. So banter back and fourth online i dont believe solves anything. I'm sure Scooter and i would love to talk to you and resolve any conflict, pain or or any feelings that need to be addressed. Neither scooter or i have anything negative to say about you we truly want the best for you. I usually don't rebuttal things like this but when you try and deface someone i loves character thats crossing a line."